---
About the LRv2 Extension
---
First at all, Patch LRv2 isn't just another Extension made for FarCry Multiplayer, it is the result of years of development to improve and simplify the game, with the point of making it easier for players to play the multiplayer part of FarCry.
(Since Ubisoft stopped their services for FarCry Multiplayer, LRv2 became one of the main solutions to continue playing our beloved FarCry)
---
Automatic map download
---
FarCry has got thousands of custom maps, but the main problem is where to get them. With LRv2 just join a server, and in the event you don't have the map, the server is running, then it will be downloaded and installed automatically. Once the download finished you can directly join to the server.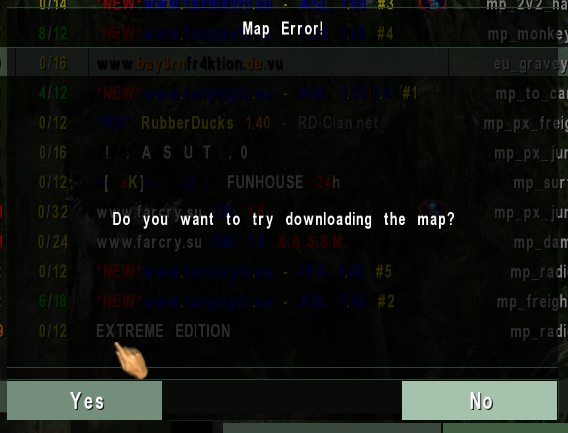 ---
The multiplayer menu
---
"Map Downloads" – Buttom: Panel where you can download custom maps from.
"English" – List: Choose your Multiplayer game language between "English, German, Spanish, French, Polish, Czech and Russian".
Server List Filter: Based on Patch 1.40 and eXcaliTrone we improved the serverlist filter.
"Internet (LR)" – Button: Unofficial serverlist which contains playable FarCry servers where you can play on.
"Internet (UBI)" – Button: Official Ubisoft serverlist.
"Server(s)" and "Player(s)" – feature: Tells you the number of servers and players which are currently online.
---
The "Internet (LR)" Serverlist
---
LRv2 provides a third Serverlist apart from the offical one, similar to the serverlist "FCMP" provided in the old times. Which allows players to play FarCry in case the official serverlist isn't working for some reason. This allows players to continue playing FarCry Multiplayer when other servers are no longer available, therefore a solution to the problem.
---
Multi language
---
FarCry has several supported languages. The main popular FarCry versions are in English.
You were required to search in the internet the right language packs to set up your FarCry and translate into your own language.
With LRv2 this is already done for you. The Community is much larger than you think, it enabled the LR team to get the Multiplayer part of the majority of languages. Many panels, including UserPanel or QuickPanel have been translated by Community players into various languages.
Now just select your language in the Yellow-Brown list in the Multiplayer Menu right over the Server Filter.
(LRv2 just translates the main menu and multiplayer part of FarCry, singleplayer isn't included.)
---
In-game UserPanel
---
Contains information about the server you are currently playing on.
Crosshair type and color list, which allows you to choose your personal crosshair.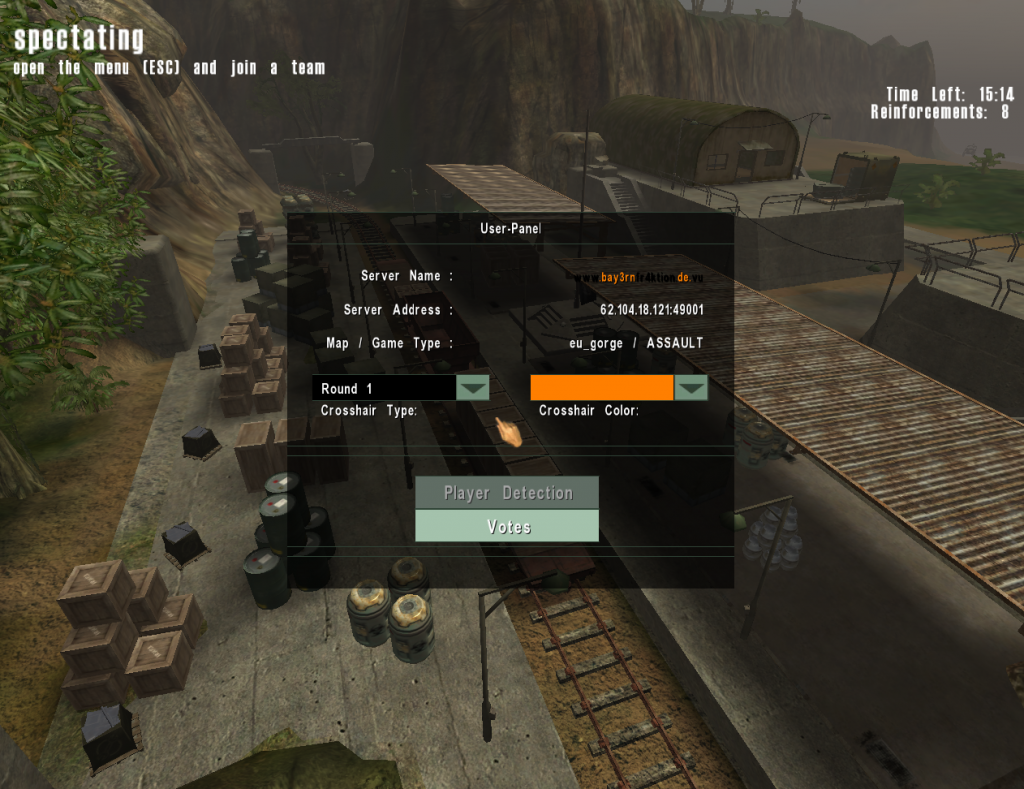 Here you got a few examples of Crosshair Types:




and some Color examples here:



By clicking the "Votes" button, you got an improved voting panel which allows you to vote maps, restart map, vote kick players, etc.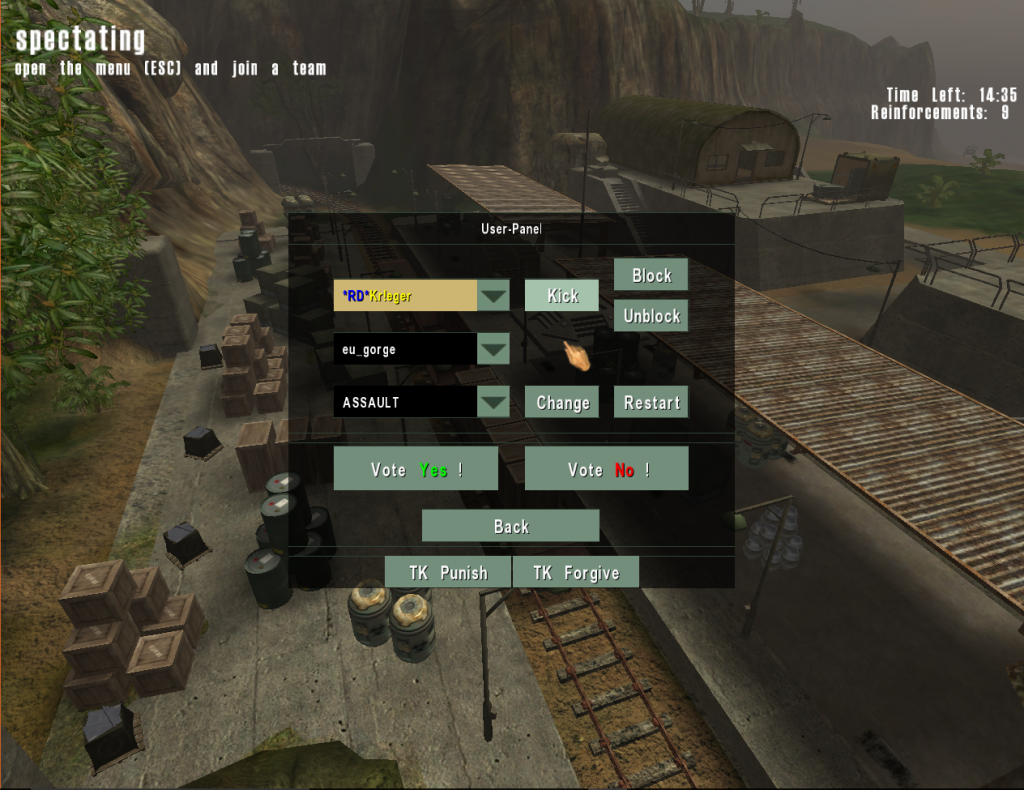 ---
ServerAdmin-QuickPanel
---
This Admin panel might satisfy all needs of a Server Admin. It is based on the best of eXcaliTrone and Patch 1.40, it's totally new versus Patch 1.33, this makes it quite more easier to administrate a server.
Admins can can easily decide to : 1) change map 2) restart current map etc.
They are also able to punish, kick or even ban players easily. Also it makes it easy to change the mapcycle or the Server Config.
Admins can also adjust quickly the number of players or teams if they aren't balanced.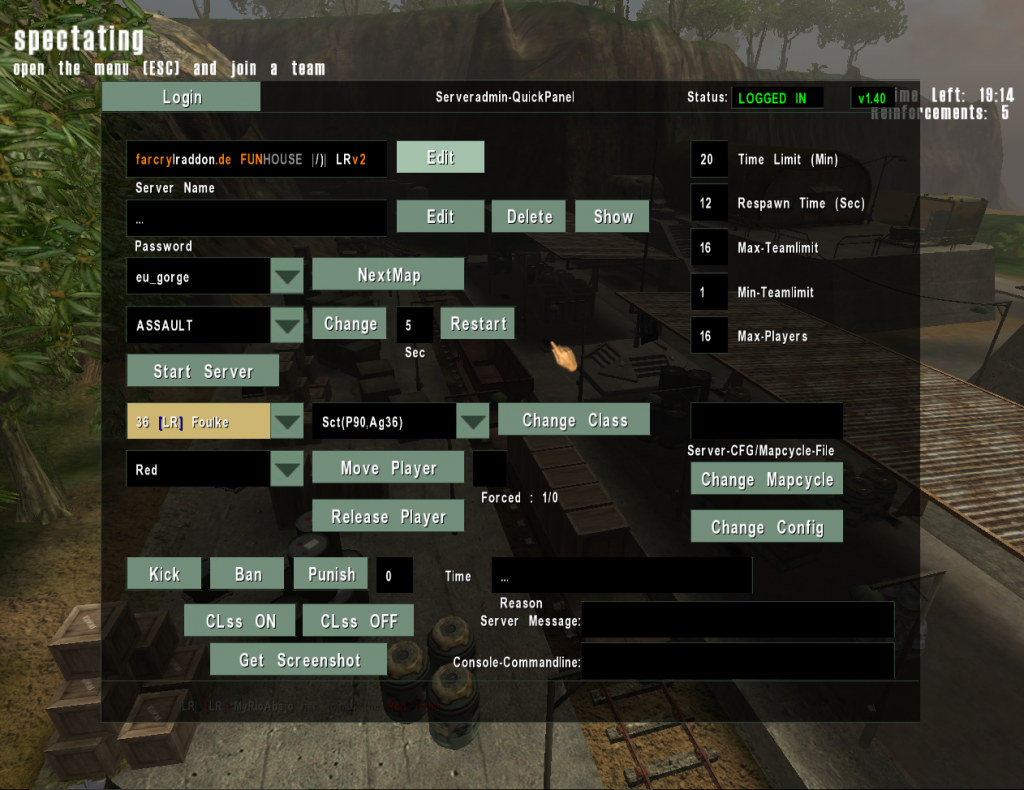 The new Login panel, makes it simple to save the login data of different servers. Just type in the RCon password and save the server data, once it's saved the server appears on the left list. If an admin needs to quickly login into the Admin panel, double click onto the server in the list. Click "Login" and choose your settings.

---
Reconnect
---
In previous patches you were able to disconnect from a server. However you had to search the server again to reconnect on it. Now you can easily press the "Reconnect" button to quickly fix lags or problems you had previously.
---
FFA / TDM Characters
---
Well known chraracters from ASSAULT mode have been added into the selection of FFA / TDM.