---

The LRv3 add-on is installed to your Far Cry game with the help of the FCLoader program. Click the "Download" button to get the FCLoader, which will include the latest version of our Far Cry multiplayer add-on. Please follow the installation steps below.

 
FAR CRY VERSION 1.40 REQUIRED!
If you bought Far Cry off of Steam, GOG or Ubisoft Connect, you are good to go as Far Cry will already be patched to version 1.40.
However, please take note if you install your Far Cry game from CD-ROM or DVD and have to first patch it to version 1.40:
When you install Far Cry from your disc(s), check which game version you got by looking at the upper right corner of your main menu. It will most likely read "v1.0" or "v1.1". In case you got version 1.0, it is indispensable that you first patch up to v1.1 and only then use the "Far Cry Cumulative 1.40 Installer" to update the game to version 1.40. If you skip this step, some game files will be incompatible. You can find all the necessary game patches in our download section.
In the very rare case that you have a game copy that comes pre-installed with patch v1.31 or v1.32, it is necessary that you follow the patching sequence step by step, going from v1.31 to v1.32 to v1.33 to v1.40. All these standalone patches are also available in our download section. If you encounter any problems while updating your 1.31 or 1.32 version, please have a look at this F.A.Q. entry.
---
Step-by-step guide
---
Once you downloaded the "FCLoader Installer" above, open the zip file and double-click the Installer.exe.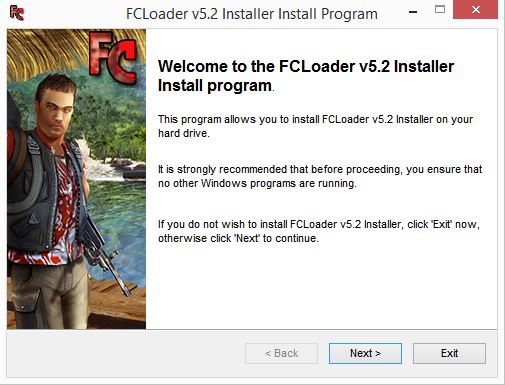 Click "Next" to proceed with the installation: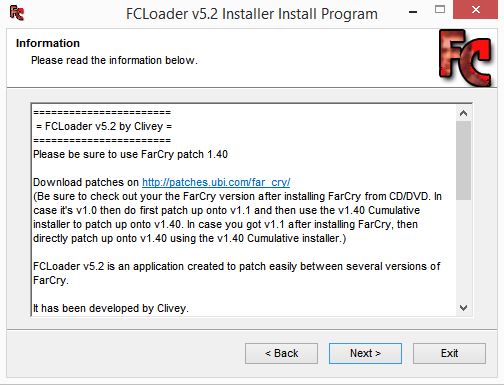 Read the license agreement and choose "I agree with the above terms and conditions", if you accept them. Otherwise choose "I do not agree" to cancel the installation:
Select the path to your Far Cry directory and click "Next" to finalize the setup.
For CD/DVD installations the path typically is:
C:\Program Files (x86)\Ubisoft\Crytek\Far Cry
(or FarCry without a blank space in between).
For Steam installations the path typically is:
C:\Program Files (x86)\Steam\steamapps\common\Far Cry
(or FarCry without a blank space in between).
For GOG installations the path typically is:
C:\Program Files (x86)\GOG Galaxy\Games\Far Cry
(or FarCry without a blank space in between).
For Ubisoft Connect installations the path typically is:
C:\Program Files (x86)\Ubisoft\Ubisoft Game Launcher\games\FAR CRY 1
(or FARCRY 1 without a blank space between "FAR" and "CRY").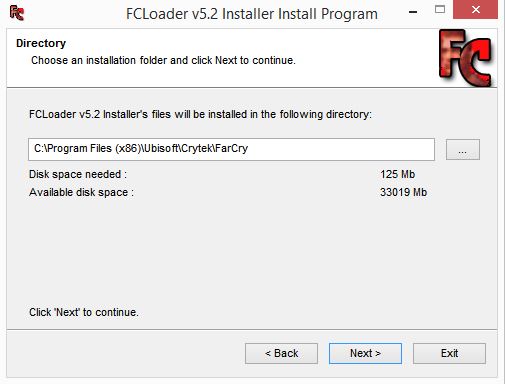 Review your chosen path where to install the FCLoader and click "Start" to initialize the installation:
Once the installation is finished, the FCLoader will launch automatically. If it doesn't, just fire it up by clicking the new icon you see on your desktop.
---
FCLoader v5.2 by Clivey
---
The FCLoader v5.2 offers you quick and easy access to several Far Cry patches (v1.33, v1.40, v1.60, XTv3, XTv4, LRv2 and LRv3).
As far as multiplayer gaming is concerned, all of them, except of course for the LRv3 add-on, are considered legacy patches and are only included for archival purposes.
On its first run the FCLoader will prompt you to set the path to your Far Cry folder:
Now go to the options of the FCLoader and configure your settings. To do so, click on the "question mark" symbol. Please note that the Ubisoft log-in data is obsolete and is not needed anymore. Just leave those fields blank.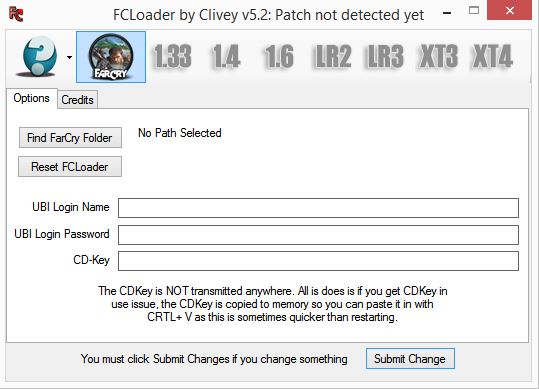 Click on the "Find FarCry Folder" button and choose your Far Cry directory, then click "OK":
Finally, click on the "Submit Change" button to save your Far Cry path. All available patches, which were greyed out before, will now be ready to use:

If you want to fire up a game of Far Cry, just select the patch you want to play by clicking the relevant button. While you can give the older legacy patches a try, at this point the LRv3 add-on is the only game patch that still supports multiplayer online gaming:

After your selected patch has been loaded, click "Yes" to run the game.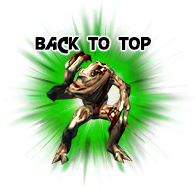 ---
For your information
---
▶ As the FCLoader has to copy the individual patch files to your game installation directory, some players might need to run the FCLoader with admin rights to avoid errors. See also our F.A.Q. here.
▶ After starting the game with the LRv3 add-on, it will automatically look for updates and offer an upgrade in case a newer LR version is out. Please follow the on-screen instructions.
▶ If you encounter any file violation problems when starting your game for the first time, it is most likely because some vendors, e.g. GOG, might have added files which were not part of the original Far Cry game. These files are not needed and must be removed before you can play online. See also our F.A.Q. for the relevant error messages.
▶ Before you can access the LRv3 multiplayer online services, you will first have to create an account with us and log in. You can do so from within the game menu by simply opening up the "Internet (LR)" server list and clicking on the "Create Account" button. Please follow the prompts to set up your account. It is of course free and it only takes a short moment before you will be ready to play! See also our F.A.Q. here.
▶ 1.33 and 1.40 are the official game patches from Ubisoft/Crytek. If you want to play the Far Cry single-player campaign, choose either one of them.
▶ Patch 1.60 is a legacy multiplayer patch created by the community. XT3 and XT4 are legacy multiplayer patches made by shilka.net. All three of them have been supported by the FCLoader since the beginning. To maintain the history of Far Cry and to conserve its evolution we haven't removed any older community patches and/or similar Far Cry extensions, even though they aren't actively used anymore.
---
Problems?
---
If you got any error messages, installation problems or other issues with the game, please take a look at our F.A.Q. page. If you can't find a solution
to your problem there, don't hesitate to contact us via Teamspeak, Discord, the shoutbox, our forum or the contact form.
That's it, start up your game and play some good old Far Cry with us! Have fun!