FarCry [LR] Extension
| | |
| --- | --- |
| By clicking the "Download" button, you are able to download to latest version of our FarCry Multiplayer Extension. Please read and follow all installation steps below. | |

FarCry Patch 1.40 is needed!
Installation
Once downloaded, open up the Zip file and start up the Installer Exe.

Once started up, just click "Next"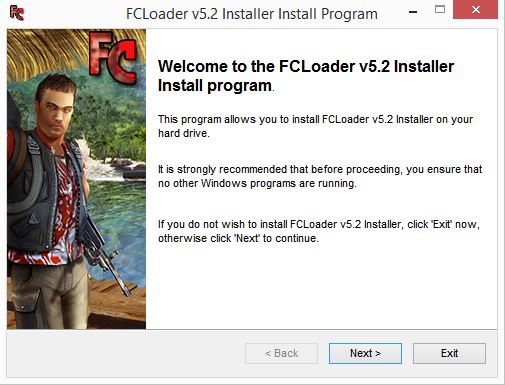 Read the information below about the FCLoader v5.2 and click "Next"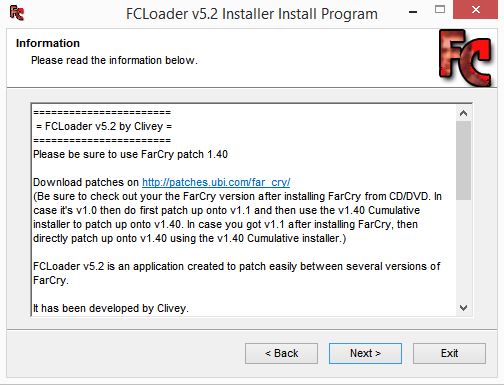 Read the license agreement, and choose "I agree with the above terms and conditions" if you accept them. Otherwise choose "I do not agree" to cancel the installation.

Select the path to your FarCry Directory and click "Next" to finalize the installation.
For CD/DVD FarCry Players it used to be: C:\Program Files (x86)\Ubisoft\Crytek\Far Cry (or FarCry without Space)
For Steam Players it used to be: C:\Program Files (x86)\Steam\steamapps\common\Far Cry (or FarCry without Space)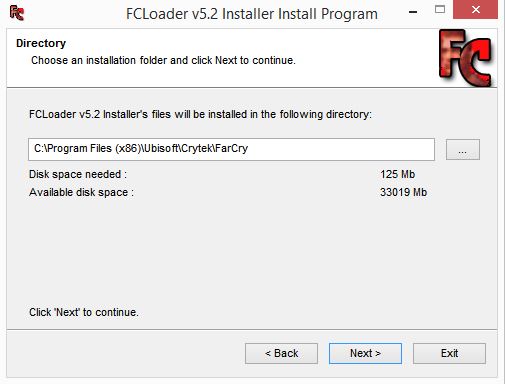 Review your chosen path where to install the FCLoader v5.2, and click "Start" to make the installation.

Once the Installation is done, the FCLoader might launch automatically. Otherwise just start it up using the new icon you see on your Desktop.
The FCLoader v5.2 by Clivey
The FCLoader v5.2 has a few useful extras to make it easier with FarCry: such as switching between several patches metioned bellow:
Patch v1.33, Patch v1.40, Patch v1.60, LRv2 , LRv3, XTv3 and XTv4
On first running, you might tell you to set the the FarCry path.

Now go to the Settings part of the FCLoader v5.2 and configure your settings, to do so click onto the "Question mark" symbol.
(You can put your Ubisoft login data to it if you like, which allows you to be automatically logged in into Ubisoft when starting the game through the Launcher.)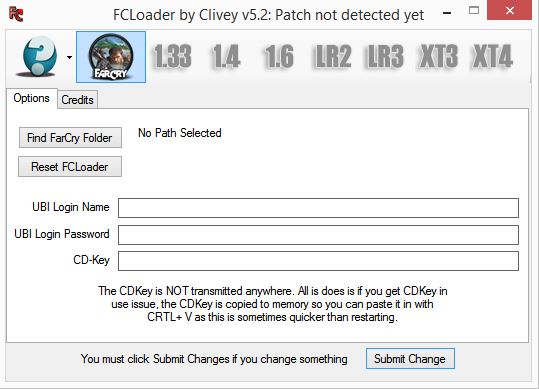 Now just click on the "Find FarCry Folder" button and chosse your FarCry folder, than click "OK".

Now just make click on the "Submit Change" button to save the FarCry path. Once done, all available patches which were greyed out before chossing the FarCry Folder, will now be ready to use.


Now just select the patch you wanna play!


Now it tells you that the patch has been loaden.
So on just click "Yes", to load up the Game.

* Some players might need to run the FCLoader v5.2 with grant admin rights! To fix appear error messages.

* The LRv2/LRv3 patches update itself automatically in case an Update is out. It's needed to always start FarCry using the FCLoader v5.2 to have always the newest LRv2/LRv3 version when launching FarCry with LR-Extension. Otherwise you might get kicked from the LR-Servers for incorrect Client-Side version.

* Please keep in mind that 1.33 and 1.40 are oficial patches from Ubisoft/Crytek

* Patch 1.60 is an unoficial patch created by the community. To get support, please visit the oficial website: farcrypatch16.de

* XT3 and XT4 are patches made by shilka.net from back in the days, their are supported by the FCLoader since beginning. To keep the history of FarCry we haven't removed any older community patches and/or similar FarCry extensions. Althought theses patches aren't actively used anymore.

ISSUES / PROBLEMS


If you got any errors, issues, etc. than feel free to take a look into the F.A.Q. page, maybe your problem is already known and you can get the fix from there: Click me to visit the F.A.Q . Everything acording LRv2/LRv3 is listed on our website.
To get support with Patch 1.60, please get in contact with iLLUSION, our support is just dedicated on the LR2/LR3 patches of the FCLoader v5.2.

That's it, now just start up your Game and start Playing FarCry!
Have Fun!