Bored of playing base maps?
There are many good FarCry Custom maps, from 2v2 maps, to 5v5 or Country maps like AM(American), EU(European) or AU(Australian) maps, etc.
Now a days the most commonly used Patch is still Patch 1.40, however, Servers with Custom maps hardly see many players on them. This is a big problem purely because a) the players do not have the maps or b) know where to get them.
Continually playing Base maps can get boring, so this Add-On gives you the easiest way to get Custom maps installed, and to play them directly, when reconnecting to the server.
If you don't have the map when the Server launches, then a message will appear, asking you if you want to Download the Map that server is currently running.
By clicking "Yes" it will continue to download the map. A progress message, which has a Progress bar, will show you in % the current state of the map download.
After the Map Download finishes you see the following message. By clicking "Yes" you will reconnect to the server.
Information: If you get a Download Error message instead, please try it later again, or visit our Support Forum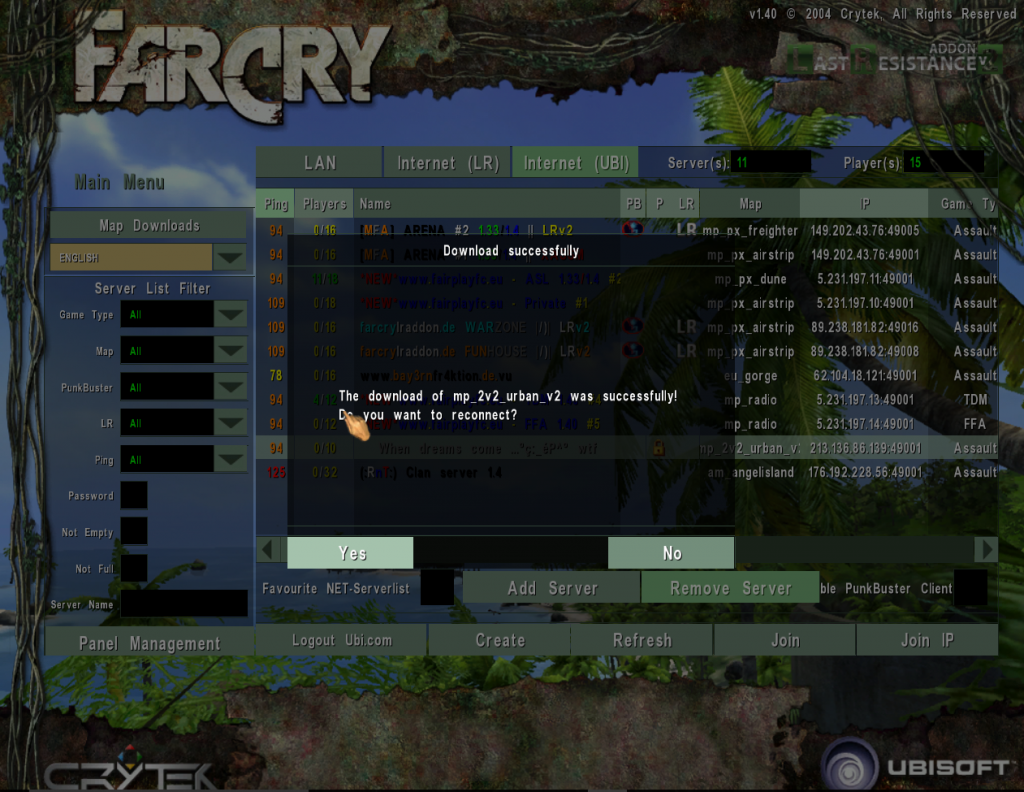 Other ways to get Custom maps.
You can use the Voluntary map downloader, by clicking the "Map Download" button on the left top of the Serverlist.
When in the Download Panel, you can select your Download-Server in the left Yellow-Brown list, and than you need to click the "Receive Available-Maps" button to refresh and list all the maps available for download.
After receiving the maps, you are able to select which one you want in the Maplist. Click "Download". It is a simple way to get new and different FarCry maps, to play with your friends.